How We Craft An Identity When Staging Homes in Calgary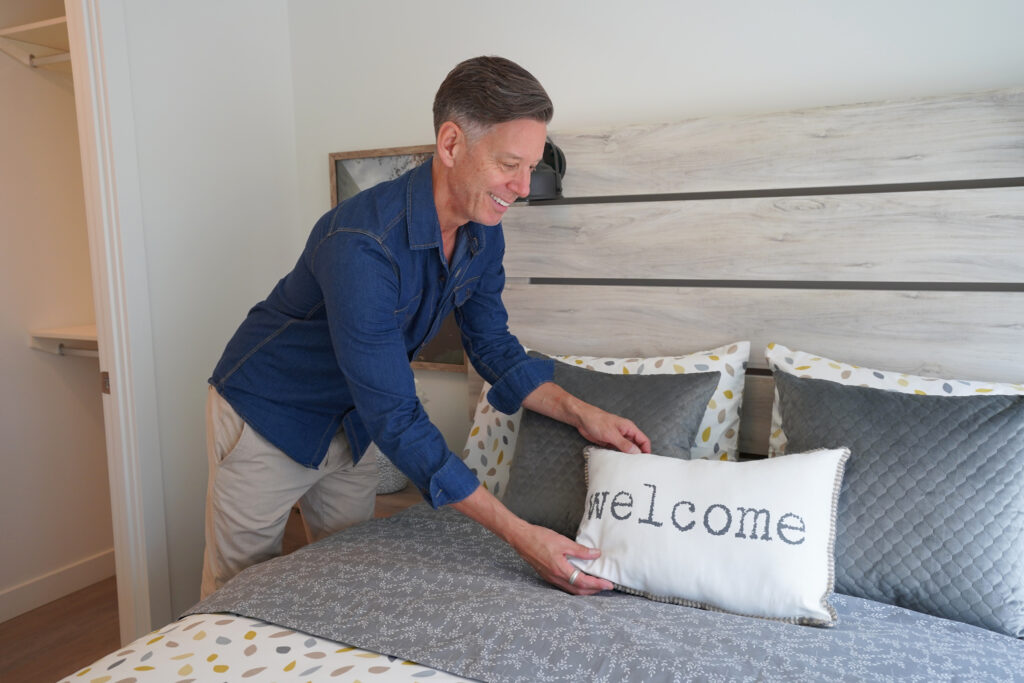 Right as COVID hit we were hired by Strategic Group to do a full staging in Calgary. As stores closed their doors we were faced with some giant hurdles. We had the keys to two empty suites, a builder expecting brand new furniture, a quickly approaching timeline, and no stores open to buy furniture to stage with. We certainly had our hands full, but we were not about to let that stop us from designing the most beautifully staged listings.
When staging in Calgary we need to consider what neighbourhood the home is located in, the listing price, the nearby amenities, and the vision of the Realtor, builder or homeowner. From here the staged. team begins to implement a design strategy. We start our process by selecting an identity for the home that speaks to the target market. From here we analyze the floor-plan of the home and plan out the most functional and streamlined layout.

Staging requires an equal combination of design aesthetics and psychology. The home needs to speak to a broad group of buyers but also create a lasting, stand-out impression. Every piece of furniture needs to be placed in a way that effortlessly guides the buyer through the home showing them how each room will be utilized. Too much empty space can lead a mind to wander pulling the buyer away from the emotional experience of living in the home. Strategically placed decor works alongside the furniture acting as subtle cues to direct the eye to highlight features of the home.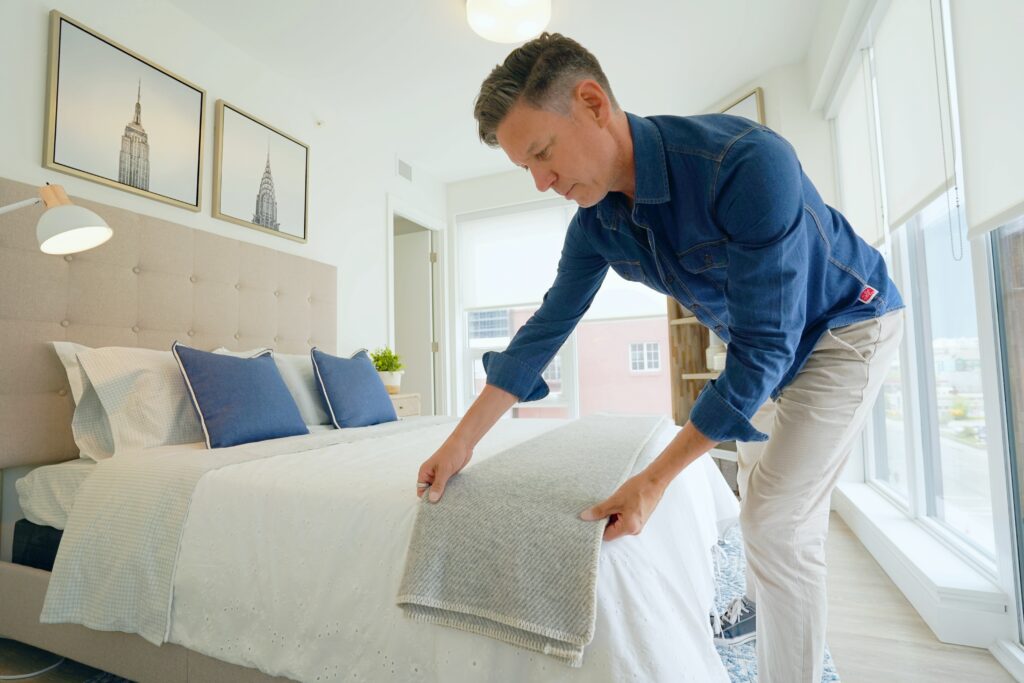 Armed with a decent budget and a plan we hopped online to order all of the essential furniture for our show home staging in Calgary. We knew that COVID would cause delays, especially on our larger shipments, leaving us no time to wait. Our favoured stores to pick up decor don't offer online shopping so we were put through the ultimate design challenge – shopping solely at hardware depots and in the home sections of grocery stores. These show suites were staged using Wayfair, Crate and Barrel, Perfect Home Furniture in Calgary, The Superstore, Walmart, Home Depot, Rona and Facebook Marketplace.

In the end, we finished the stage before our deadline, even with a few pieces from Wayfair lagging behind. In order to follow social distancing guidelines, we had to avoid the elevators the builders were using which meant we had to carry all of our decor up to the fourth floor via the stairwell. It's safe to say our bodies and our design skills got the ultimate workout on this home staging, but check out the results.
Staging Show Suite Two

The Upton 2-Bedroom
Located in bustling central Calgary our target market for the two-bedroom suite was an urban professional or an empty nester that wanted the proximity to all the nearby amenities.

Our vision was to create a global-inspired style for this home. We imagined the homeowner as a world traveller that enjoys collecting pieces from their journeys. In creating this atmosphere we're very vigilant that we maintain an aesthetic that's both relatable and mature. The neutral design palette sets a beautiful stage for customization. We had the builder paint one wall for a subtle pop that compliments the decor highlights.
Living Room
Island Stools: Urban Barn
Area rug: Home Depot
Coffee Table: Perfect Home Furniture
TV: $140 Facebook Marketplace
Wall art: Perfect Home Furniture, Wayfair
Side Chair: Perfect Home Furniture
Decor: Perfect Home Furniture, Walmart, Superstore, staged. Inventory
Master Bedroom
Bed frame: Perfect Home Furniture
Wall Art: Wayfair
Book Shelf: Structube
Night Stand: Structube
Lamp: Wayfair
Bedding: Walmart
Decor: Walmart, Superstore, Home Depot, staged. Inventory
Guest Bedroom
Bed frame: Perfect Home Furniture
Night Stand: Structube
Wall Art: staged. Inventory
Dresser: Structube
Bedding: Walmart
Decor: Walmart, Rona, staged. Inventory
Suite Two

The Upton 1-Bedroom Show Suite
Our target market for the one-bedroom suite was a bachelor's apartment for a young professional. Our vision was a polished and streamlined mid-century modern style relatable for both men and women. This style aesthetic pulls elements from the mid-'50s to the early '60s, but we took extra care to ensure the space looked clean and fresh rather than cluttered.
Main Living Area
Island Stools: Crate and Barrel
Sofa: Perfect Home Furniture in Calgary
TV $80: Facebook Marketplace
TV stand: Structube
Books in tv stand: The designer section of Fair is Fair bookstore. Books on the coffee table: Value Village
Wall art: Perfect Home Furniture
Rug: Structube
Coffee table: Perfect Home Furniture
Coffee table decor: Perfect Home Furniture
Side Chair: Perfect Home Furniture. This was the most expensive piece. Mixing in a few high-end pieces with more affordable items helps to create an elevated aesthetic without breaking the bank.
Entry Way
Bench: Wayfair
Wall art: Walmart